UG-2A: STANDARD - Almond Thermostat Guard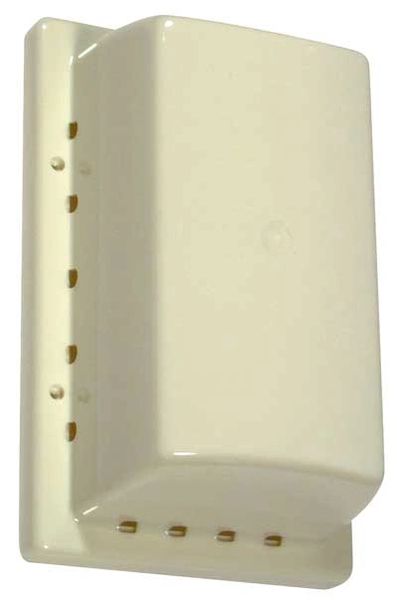 UG-2A: STANDARD - Almond Thermostat Guard
The Uni-Gard, Inc. unique cover that helps prevent vandalism and tampering of a mini thermostat or sensor.
Molded
of almond colored LEXAN (heavy-duty polycarbonate material) which is 1/8" thick. Install this protective cover in  areas where abuse is a problem. Designed to help prevent vandalism, accidental damage or costly, annoying tampering by employees and others. Especially useful where thermostats or sensors are located in public areas. Simple installation to the wall without having to remove the thermostat or sensor. The breathing holes built into the frame allow air to circulate freely for proper operation of protected thermostats or energy sensors.

Backed by Uni-Gard, Inc. three year guarantee
As all UGI polycarbonate (LEXAN) covers, this super tough unit is backed by a three year guarantee against breakage and damage in normal use. For added protection against abuse, it comes complete with a unique screw and key system that only those with the key may access. The Thermostat Protector is shipped complete with all mounting hardware.

UG-2A ships with:

LEXAN molded back frame (1)
LEXAN molded cover (1)
Unique Key (1)
Unique Screw to attach cover to frame plate (4)
Tapit/Nail to attach frame to wall (4)
Instructions for attaching unit available at

www.unigardinc.com

in downloadable PDF
*  When installing multiple units, consider purchasing the unique Uni-Gard, Inc. Drill Bit (UG-D1) which will fit most universal power screwdriver or universal power drills.


UG-2 Features

DIMENSIONS: A:7" B: 3 7/8" C: 3 1/4"
Made of LEXAN, a polycarbonate material.

Offers excellent protection against tampering, abuse and accidental damage without affecting operation of mini thermostat or sensor.
Designed with holes in the frame allow air to circulate freely.
Unique key and screws allow access only to authorized people.
Easy and quick installation.
Available for flush mount applications.
Three year guarantee against breakage of polycarbonate in normal use.
Cover is UV-stabilized.
Typical working properties of polycarbonate are -40° to 250°F (-40° to 121°C).
Other covers available is UG-1 or UG-3 series.
We also offer a "Drill Bit" (UG-D1) for easy attaching or removal of tamper proof screws. It will fit in a drill or a four-way screw driver.