STI-9116: Thermostat Protector Dome Shape - Standard Mounting Hardware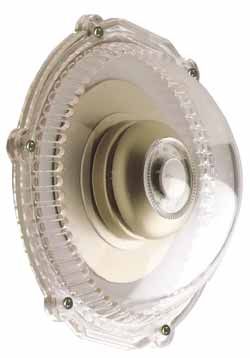 STI-9116: Thermostat Protector Dome Shape - Standard Mounting Hardware
Note thermostat shown under cover is NOT included.
Thermostat Protector Dome Shape

STI-9116
Once you set your circular-type thermostat and install this super tough cover, there are no more worries about tampering, vandalism or accidental damage. It is molded from clear, thick polycarbonate material and is installed with tamperproof screws for added protection.

As all STI protective covers, the Tamper Stopper Thermostat Cover carries a three year guarantee against breakage in normal use. It is UV-stabilized and slots around the circumference allow air to circulate freely for proper operation of the thermostat. Installation is quick and easy. The cover is shipped complete with tamperproof spanner screws, anchors and a spanner bit. STI also offers Thermostat Protectors for vertical-type thermostats, mini-thermostats and energy sensors.

STI-9116 FEATURES

Cover helps protect against vandalism and damage

Slots in the cover allow air to flow freely for proper operation of the thermostat

Fast and easy installation
Includes standard mounting hardware

7.25 in H x 7.25 in W x 2.87 in D