STI-6404: Exit Stopper® for Double Door with Remote Horn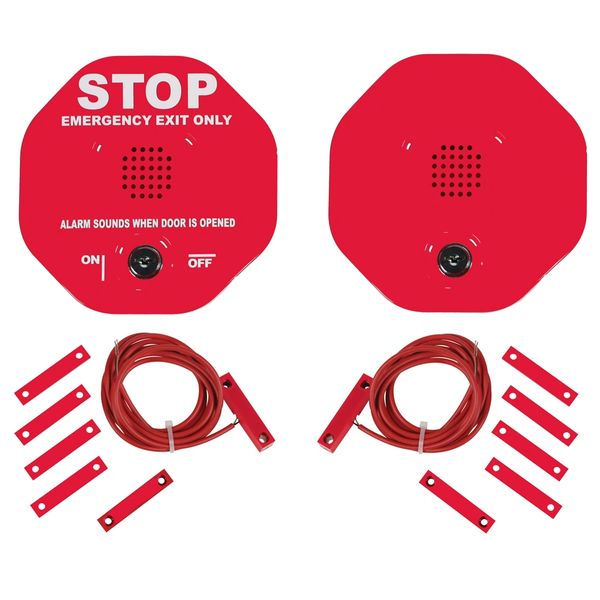 STI-6404: Exit Stopper® for Double Door with Remote Horn
Exit Stopper® for Double Door with Remote Horn
STI-6404
Highly effective, alarm alerts you to any unauthorized exits/entries through emergency exits with double doors. Serves as an inexpensive security device and helps stop theft as well.

If the protected doors are opened, the electronic Exit Stopper (STI-6404) emits an ear piercing alarm from the main unit and remote horn for 30 seconds, three minutes or continuously (as preset by the user). A key operated override will silence the alarms and allow authorized exits. Another option is annunciator mode, in this mode it announces a doors opening with a set of 10 beeps and then resets. Exit Stopper is fitted with a long life 9-VDC alkaline battery. It is available in red or green for almost any type of door, mounting or installation.

STI-6404 FEATURES

Complete with double reed switch assembly that allows the alarm to monitor double doors.

Includes an additional horn assembly that can be mounted up to 300 feet from the main unit - wire not included and not electrically supervised.

Highly visible "stop sign" design acts as a deterrent.

Unit is completely self-contained and easy to install.

Sounds a powerful 105 dB warning horn when activated, drawing attention in a hurry (95 dB low volume setting can be selected if desired).

Virtually indestructible polycarbonate housing.

Virtually indestructible polycarbonate housing.

Upon installation, user can select whether to use as an alarm or annunciator.

Alarm mode can be set to sound for 30 seconds, 3 minutes or indefinitely (unless disarmed with key supplied or until battery is drained).

May be programmed for 30-second entry delay or immediate trip.

Arming delay allows unit to arm following an authorized exit.

May be mounted on top, right, left or next to almost any door.

Detects both unauthorized exits and entries.

Less expensive than heavy horizontal bar type units.

Practical for all emergency doors.

Compact design 5 in. (127mm) in diameter and 1.875 in. (48mm) deep.

Also available in green housing to comply with newer standards (STI 6404-G).

9-VDC alkaline battery is provided.

Recommended operating temperature 32°F to 113°F (0°C to 45°C).

Includes one warning label 16200. This label is often placed on the outside of the door protected by Exit Stopper.

Should not be exposed to water.

Not for outdoor use.

Three year guarantee against breakage of polycarbonate in normal use (one year on electro mechanical and electronic components).

Housing is molded of super tough polycarbonate and is UV-stabilized.

Typical working properties of polycarbonate are -40° to 250°F (-40° to 121°C).
Note: End user must verify the alarm and battery function every six months and replace battery annually or as required.